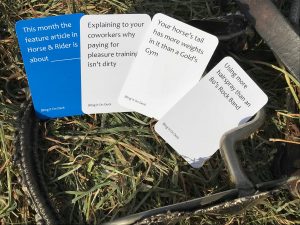 Ah Western Pleasure. Beautiful horses with thick fake tails, enough bling to blind the judge, and competitors using more hair spray than an 80's rock band. But it is not all glitz and glamour. Did your horse bolt during the bit check? Forget to pack your fake tail? Pass out from the heat due to your show clothes? Grab your friends and play a round of EAN to help ease the pain.
Bling It On EAN's Western Pleasure Deck is perfect for killing time during shows, while you hang out in the stable, relax with friends, or are hiding from your trainer. So if you are looking for a horse card game this is a must have for the Western Pleasure lover in your life. You can play the Bling It On deck on it's own or combine it with any of the other EAN decks for longer game play.
Click here to order our new Western Pleasure Deck
And if you are new to our page don't forget to check out our What is Equestrians Against Normalcy page to learn more, and to follow our Facebook and Instagram pages for updates and Giveaways!