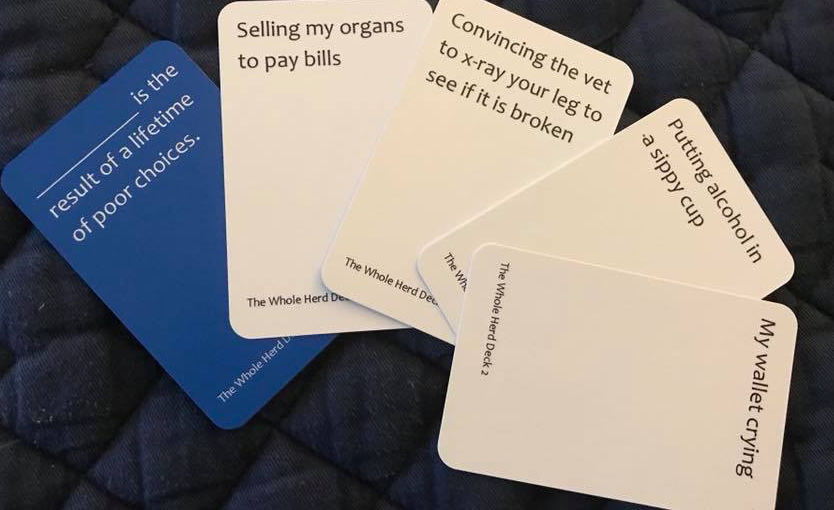 CLICK HERE TO JUMP RIGHT TO WHERE TO BUY!
You might be asking yourself what is Equestrians Against Normalcy? EAN is the must have card game for the adult equestrian. If you love horses, laughter, and a bit of twisted humor this is the game for you. It brings all the elements of the horse world into an easy to play easy to travel with game that takes situations, phrases, equipment, and more from the stable and turns it into the ultimate way to relax or kill time at shows or at home.
All of our decks are tested by real horse people who EAN has no relationship with in order to ensure maximum fun for everyone. But you don't have to take our word for it. Check out the Review Of EAN on Horse Nation
With White cards like these how can you not have fun?! 
       *When your horse plays ping pong off the dressage letters (Dressage Diva Deck)
      *Hallucinating George Morris (Hunter Princess Deck)
      *Eventing because there is no medication strong enough for our type of crazy (Extreme Eventer Deck)
      *Looking like a monkey humping a football (Jump Off Deck 1)
     *Crying in the corner (Jump Off Deck 2)
     *Fear makes you giggle (Jump Off Deck 3)
     *Xanax Vending Machines (Southern Circuits Deck)
     *52 Free Thoroughbreds (The Whole Herd Deck 1)