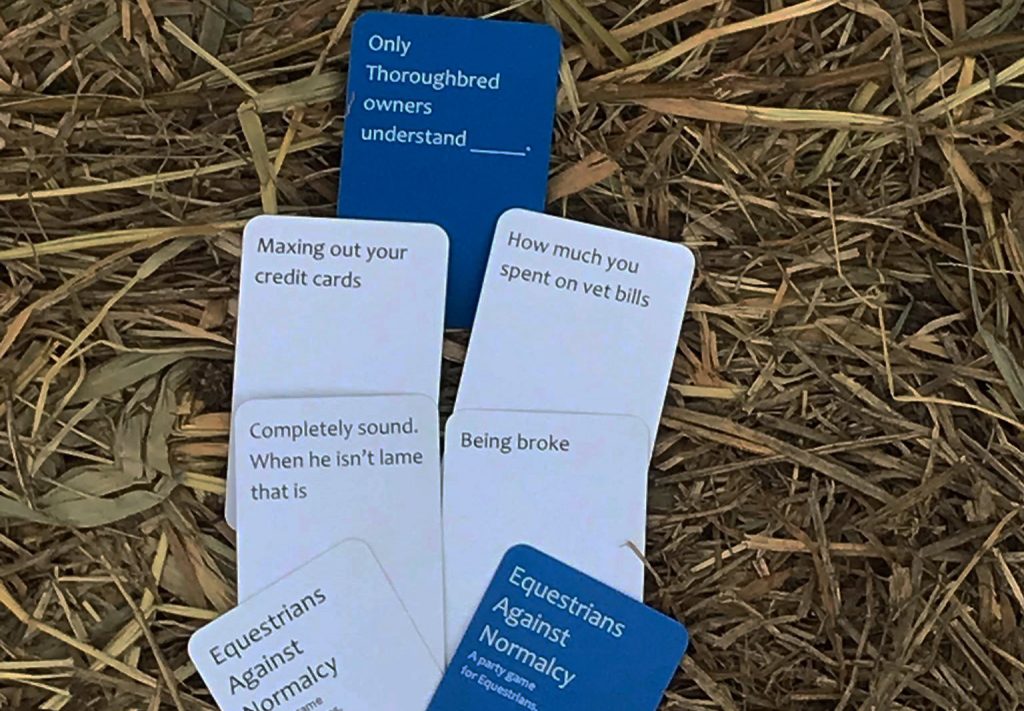 The must have card game for the adult Equestrian.  Our Jump Off Decks can be purchased by clicking here
Equestrians Against Normalcy is the must have card game for horse lovers. Designed by a life long equestrian for adult riders to enjoy with their friends in the stable, at home, or at the shows.
Our Jump Off Decks are non discipline specific but do contain many references to things found in the H/J, Dressage, and Eventing World. Decks 1-3 are Second Edition Decks that have been fine tuned with the wonderful feedback from our customers. Looking for something more for the western rider or that doesn't have a lot of english cards? Check out Bling It On and The Whole Herd Deck!
Each  of the Jump Off Decks have unique to them White Cards and Blue Cards. You can play with one deck for a quicker game as we know Jump Offs go faster than normal rounds. Or you can combine EAN decks for a longer game that you can play with more people and see what your endurance is like. Either way quick or long you are sure to have fun.
Equestrians Against Normalcy Rules:
Everyone starts off with 10 White cards. The person who fell off most recently goes first by drawing and reading a Blue card. Each of the other players then plays a White card to fill in the blank and takes a new White card from the deck. The person who read the Blue card then picks which White card they like the most or deem the most inappropriate and gives the Blue card to the person who played that card. And just like in horse show life the person with the most Blues wins.